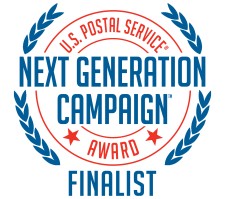 ATASCADERO, Calif., May 2, 2018 (Newswire.com) - The USPS Congratulates their Finalists and Honorable Mentions for the 2018 Next Generation Campaign Award™ in an announcement to industry.
"It is our great pleasure to announce the finalists for the Next Generation Campaign Award. We congratulate them and wish them good luck at the National Postal Forum in San Antonio, Texas where attendees will vote to select the contest Grand Champion.
The Finalist are:
· 'College Students NCOA-Have You Moved' designed and printed by AccuZIP, Inc.
· 'Circus Saurus' designed and printed by Comtech Design, Print & Mail for Carson & Barnes Circus
· 'Outdoor 1' designed by Hayneedle and printed by Suncraft Technologies, Inc.
· 'Informed Delivery Lunch & Learn Event' designed and printed by PremierIMS
The judges would also like to congratulate and recognize the following submissions as Honorable Mentions:
· 'Top 10 Prom 2018' designed by Top 10 Prom and printed by Hickory Printing Solutions
· 'Holiday Sale' designed by Digitas for Comcast and printed by IWCO
· 'November GLO (Guaranteed Loan Offer)' designed by Security Finance Corporation of Spartanburg and printed by Salem One, Inc.
· 'SnoCo '18 Special Election' designed by Snohomish County Elections and printed by Cenveo
The Finalist and Honorable Mention campaigns have been added to //irresistiblemail.com/award to inspire the industry.
We would like to thank everyone that entered, and we look forward to your participation in next year's contest.
Kind regards,
Next Generation Campaign Award Team"
About AccuZIP Inc.
AccuZIP Inc., a national software company, provides feature-rich solutions to manage Contact Data Quality, Address Hygiene, USPS Postal Presorting and Compliance and Mail Tracking and Reporting. AccuZIP's solutions are designed to be utilized across many industry verticals to streamline, standardize and simplify processes associated with data entry, data management, and multi-channel communications. AccuZIP's products and services make it easier for businesses to get their message out to the right people at the right location when they need to most. In business for over 26 years, the company has built an outstanding reputation for value, service, and innovation.
Mission Statement: AccuZIP simplifies direct mail and data quality processes. This is accomplished by innovative products, responsive service, reliable updates, efficient software, long-range vision and commitment to loyal customer partnerships. Our Technology. Your Success.
Source: AccuZIP, Inc.
Share: