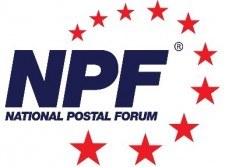 LEAGUE CITY, Texas, January 24, 2019 (Newswire.com) - ​​It was announced today that AccuZIP President Kristen McKiernan was selected to present a workshop session at the 2019 National Postal Forum May 5-8 at the Indiana Convention Center in Indianapolis, Indiana. The National Postal Forum's Executive Director Maureen Goodson stated, "Careful review and consideration has been given to each entry and your workshop submission listed below has been approved."
11 Tips for More Effective Direct Mail
Session Description: Marketers are renewing their interest in direct mail as consumers suffer from email fatigue. By applying strategies such as precise targeting, customized offers, and personalized communications, marketers are leveraging direct mail's ability to convert. Mail continues to outpace digital alternatives in this regard. Though direct mail use is resurging, sending the same old postcards to the same old list won't cut it anymore. To take advantage of the medium, marketers must combine their new data-crunching and content-generation tools with creative design and innovative presentation. This workshop will cover tips for getting consumer attention, encouraging recipients to open their mail, and enticing them to take action.
"AccuZIP is honored to have been selected to present a workshop session at this year's National Postal Forum. As part of our commitment to ongoing education, AccuZIP continues to be a 'go to' industry resource when it comes to all things direct mail. I welcome the opportunity to share my 18-plus years of experience in the mailing and postal software industry with the session attendees. I am passionate about direct mail and marketing and encourage all printers, mailers and marketers to attend this session," said Kristen McKiernan, president, AccuZIP Inc.
AccuZIP Inc. will be attending and represented at the National Postal Forum on the exhibit floor. Stop by the AccuZIP Booth #502 for special show-only offers and to learn more about how AccuZIP's products and services can benefit a company's operations.
About AccuZIP Inc.
AccuZIP Inc., a national software company based in League City, Texas, provides feature-rich solutions to manage Contact Data Quality, Address Hygiene, USPS Postal Presorting and Compliance, and Mail Tracking and Reporting. AccuZIP's solutions are designed to be utilized across many industry verticals to streamline, standardize and simplify processes associated with data entry, data management and multi-channel communications. AccuZIP's products and services make it easier for businesses to get their message out to the right people at the right location when they need to most. Now into its third decade of doing business and celebrating its 27th-year anniversary, the company has built an outstanding reputation for value, service and innovation. For more information, visit www.accuzip.com.
About Kristen McKiernan
Kristen McKiernan is president at AccuZIP Inc. Kristen joined the AccuZIP team in 2001 and has played an active role in the sales, support, IT, operations and project management departments during her tenure at AccuZIP Inc., moving into the role of president in 2015. She holds a Bachelor's Degree in Environmental Studies with a Business Administration focus and a Specialization in Computing from the University of California Los Angeles (UCLA) and a Master's Degree in Business Administration (MBA) with a Technology Management focus. She is a Microsoft Certified Professional, holds two Idealliance Certifications, MailPro Professional Advanced Certification and MailPro Fundamentals Certification, and is a commissioned California Notary Public.
Kristen is a native of the Central Coast of California and when not spending time in the office (or listening to TED talks), she is passionate about her family including her husband of 17 years and two young children. She enjoys all things travel, outdoors and exercise.
Prior to AccuZIP, Kristen worked as a senior system and network administrator for the banking and communications industries. To contact Kristen, email kristen@accuzip.com.
Source: AccuZIP Inc.
Share: