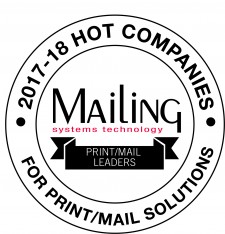 ATASCADERO, CA, August 10, 2017 (Newswire.com) - AccuZIP, Inc. is featured as a 2017-18 HOT/PRINT MAIL SOLUTIONS COMPANY in the August Issue of MAILING Systems Technology Magazine. The HOT COMPANIES section showcases some of the leading solution providers in the print & mail industry. The profile outlines AccuZIP's many products and services including:
Mailing Software
Mail Tracking and Analysis
CASS™ and Direct Mail RESTful API Solutions
Real-Time Unlimited NCOALink® and Address Validation
Data Enhancement Services
Resident and Business Mailings Lists
Professional Services
The profile also emphasizes AccuZIP's focus on excellent customer service and support. One of the biggest demonstrations of customer support is AccuZIP's long-standing price-lock guarantee. Customer partners pay their original price for AccuZIP products and services, regardless of subsequent price changes. Today, AccuZIP continues to charge long-time customers the same rates they paid in 1992.
People like consistency and dependability. They want to trust the brand. That's why the price-lock guarantee is hugely important—our customer partners can depend on consistent postal software budgets every year.

Steve Belmonte, AccuZIP, Inc. - CEO
To read the complete HOT COMPANY profile visit: http://mailingsystemstechnology.com/flex-30-2017-AccuZIP-HOT-COMPANY.html
Download the complete profile: http://mailingsystemstechnology.com/file-53-2017-AccuZIP-HOT-COMPANY-PROFILEpdf?hsCtaTracking=8efb5653-d9cc-4c3d-909f-5babe89ccd75%7Cfedb18db-8d74-47c7-8d40-6056d74423e0 ​
About AccuZIP, Inc.
AccuZIP, Inc., a national software company based in Atascadero, CA, provides feature rich solutions to manage Contact Data Quality, Address Hygiene, USPS Postal Presorting and Compliance and Mail Tracking and Reporting. AccuZIP's solutions are designed to be utilized across many industry verticals to streamline, standardize and simplify processes associated with data entry, data management, and multi-channel communications. AccuZIP's products and services make it easier for businesses to get their message out to the right people at the right location when they need to most. Now into its third decade of doing business and celebrating its 25th year anniversary, the company has built an outstanding reputation for value, service, and innovation.
For more information, visit www.accuzip.com
Source: AccuZIP, Inc.
Share: