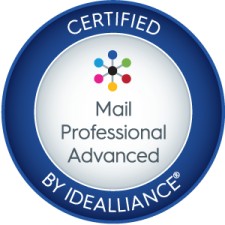 ATASCADERO, CA, August 23, 2016 (Newswire.com) - ​On May 18, 2016, Idealliance announced that they were introducing a Mail Professional Training Program (MailPro™), to the industry.  AccuZIP team members were quick to embrace this certification program with Customer Care Specialist Mathew Little being the first in the Nation to obtain both the Fundamental and Advanced certifications. As of today, Nine (9) AccuZIP team members have achieved certification, Six (6) of whom have also gone on to achieve the MailPro Advanced Certification.
President of AccuZIP, Kristen McKiernan stated, "I am extremely proud of the commitment our staff has shown in achieving these certifications.  It is another example of AccuZIP leading the industry in our efforts to provide the best and most knowledgeable staff and service to our customer partners.  I personally took both courses and was impressed by the volume of challenging information presented in the materials and exams.  I proudly now stand with my team as both a certified Fundamental and Advanced MailPro."  
The MailPro Fundamentals certification program is comprised of 13 lessons and is self-paced. It is available 24/7 to all registered students and is delivered on-line through as a series interactive video tutorials, study questions, and certification exams. The videos are narrated by expert instructors giving students access to industry leaders with more than 400 years of combined mailing industry experience.
The MailPro Advanced certification consists of an additional 9 lessons and is delivered to the student in the same way as the fundamentals courses (on-line). In total, the two programs include over 11 hours of content for the students to review and be tested on.
AccuZIP is proud to again have led the industry in these certification efforts and notes that many of its competitors are following suit.  "These certification programs strengthen the industry as a whole and we are thankful to Idealliance for developing such an excellent program.  AccuZIP will continue to focus its efforts on education and leading the industry in embarking on these programs.  Our dedicated efforts to gain certification makes AccuZIP stronger as an organization, as a resource for our customer partners and as an industry leader for 25 years."
About AccuZIP, Inc. 
AccuZIP, Inc., a national software company based in Atascadero, CA.  Now into our third decade, AccuZIP provides feature-rich solutions to manage Contact Data Quality, Address Hygiene, USPS Postal Presorting and Compliance, Mail Tracking and Reporting and much more!  Our solutions are used in many industry verticals to streamline, standardize and simplify processes associated with data entry, data management and multi-channel communications. www.accuzip.com
Source: AccuZIP, Inc.
Share: