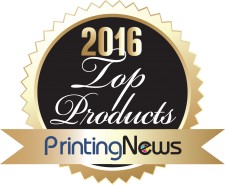 ATASCADERO, CA, September 1, 2016 (Newswire.com) - It was announced today that AccuZIP 7 from AccuZIP, Inc. is the 2016 Printing News Reader's Choice Award winner in the Finishing & Mailing: Mailing Software & Hardware category.  
Every year, the editorial staff at Printing News combs through new products and includes them on the ballot for the Top Products that readers vote on.  The 4th annual Printing News Readers' Choice Top Products Awards competition was conducted in mid-2016. The goal was to gather opinions from print service providers about what they consider to be the most significant products introduced to the commercial printing industry. 
In sharing her congratulations, Editorial Director Denise Gustavson stated, "The Printing News Readers' Choice Top Products Awards feature the breakthrough products that have caused the most excitement in the industry and have been a valuable asset to commercial print businesses.  Congratulations!"
Kristen McKiernan, AccuZIP President, stated "AccuZIP is honored to have received this prestigious award. AccuZIP 7 is the most significant upgrade to our most popular product, AccuZIP6 5.0, in our 25-year history.  The new AccuZIP 7 is the culmination of years of experience and customer input.  The new AccuZIP 7 will set a new standard for desktop database management, data quality and postal software applications for the foreseeable future by ensuring that each good standing customer receive a PLG (Price Lock Guarantee), closely integrating external services and processes, and creating an intuitive comprehensive feature set that allows our customer to generate more revenue and reduced labor and data processing costs.
As with our current desktop product, AccuZIP6 5.0, AccuZIP 7 will significantly improve the way our customers work with data and process mailings. The number of new enhancements and value that we are embedding into AccuZIP 7 is staggering.  Even though AccuZIP 7 is a desktop product that is installed locally, or as a Client-Server or on a Virtual Machine, it is closely connected to the digital world.  With an extensive set of productivity, communication, cost cutting features and improved usability, our new AccuZIP 7 technology will make our customers more successful in their business.  This synergy we have with our customers is apparent. We listen to their needs and requirements.  AccuZIP 7 is a momentous upgrade to our desktop suite of products in our 25-year history."
The feature outlining the entire list of winning products as voted on by the readers of Printing News will be appearing in the September issue of Printing News magazine, due to be released on September 1st.
About AccuZIP, Inc.:
AccuZIP, Inc., a national software company based in Atascadero, CA, provides feature rich solutions to manage Contact Data Quality, Address Hygiene, USPS Postal Presorting and Compliance and Mail Tracking and Reporting.  Our solutions are designed to be utilized across many industry verticals to streamline, standardize and simplify processes associated with data entry, data management and multi-channel communications.  AccuZIP products and services make it easier for businesses to get their message out to the right people at the right location when they need to most.  Now in our third decade of doing business, the company has built an outstanding reputation for value, service and innovation.  For more information, visit www.accuzip.com.
Source: AccuZIP, Inc.
Share: